SS201 304 4*8ft Golden Mirror Stainless Steel stamped sheet decoration ceiling
Product Detail
FAQ
Product Tags
Type: Decorative Stainless Steel Sheet
Standard: ASTM/AISI/GB/JIS/DIN/EN
Grade: 201/304/316/430/200 Series/300 Series/400 Series
Shape: Flat/Plate/Sheet
Technique: Cold Rolled/PVD Color Coating
Surface Treatment:No.4, Hairline, Mirror, Etched, PVD Color, Embossed, Vibration, Sandblast,  Combination, lamination etc.
Color Coating: Titanium gold,rose gold,champagne,gold,coffee,brown,bronze,brass,wine red,purple,sapphire,Ti-black,wooden,marble,texture,etc.
Pattern : Linen,cubes,diamond,panda,bamboo,water wave, etc.
Thickness: 0.55mm/0.65mm/0.85mm/1.15mm
Width: 1000mm/1219mm/1240mm
Length: 1000mm/2438mm/3048mm
Regular Size: 1219x2438mm/1000x2000mm
Anti-fingerprint available
Feature: Sustainable
Usage: Ceiling/Door/Wall
Packing: Wooden Box/Wooden Case/PVC+ waterproof paper + strong sea-worthy wooden package
Original Material: POSCO/JISCO/TISCO/LISCO/BAOSTEEL etc
PVC Film: Laser PVC/POLI-FILM/NOVANCEL/PVC thickness 70-100 Micron Laser PVC/Double 70 Micron Black And White PVC
Delivery: Normally 7-15 days
Productivity: 7000-8000tons/month
| | | | | |
| --- | --- | --- | --- | --- |
| Grade | STS304 | STS 316 | STS430 | STS201 |
| Elong(10%) | Above 40 | 30MIN | Above 22 | 50-60 |
| Hardness | ≤200HV | ≤200HV | Below 200 | HRB100,HV 230 |
| Cr(%) | 18-20 | 16-18 | 16-18 | 16-18 |
| Ni(%) | 8-10 | 10-14 | ≤0.60% | 0.5-1.5 |
| C(%) | ≤0.08 | ≤0.07 | ≤0.12% | ≤0.15 |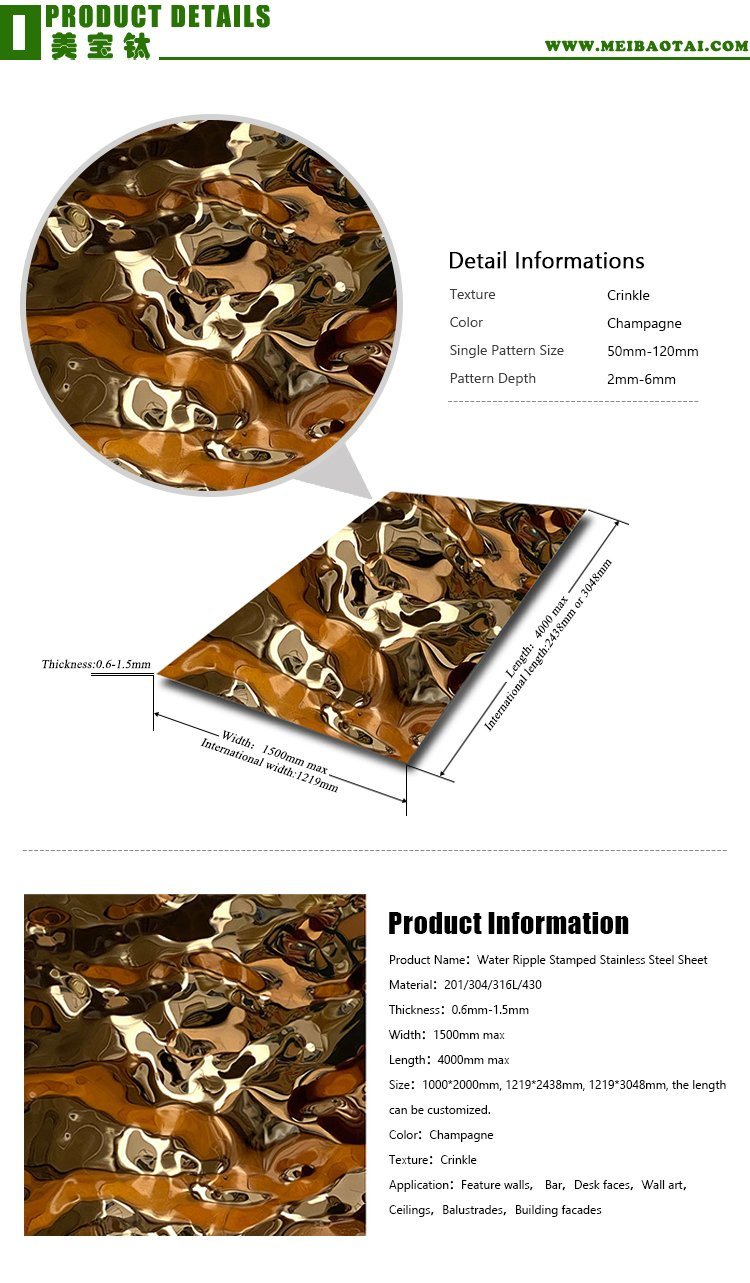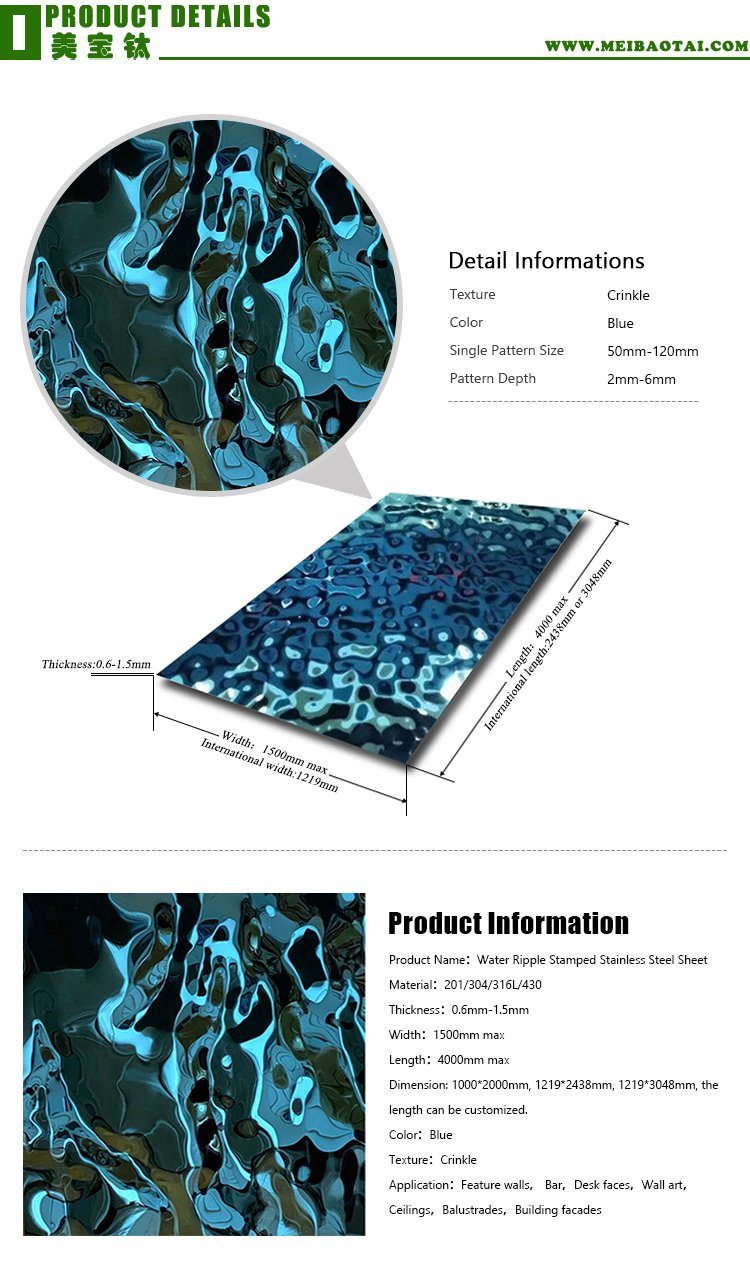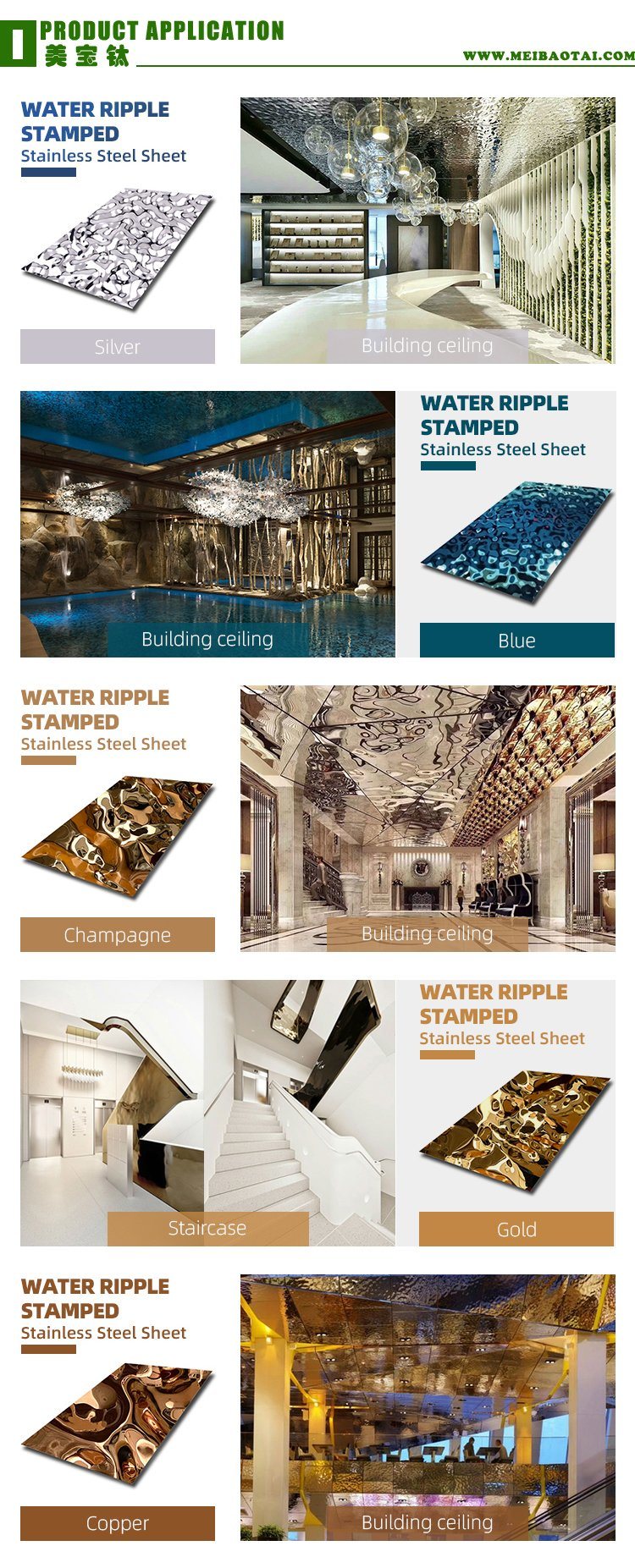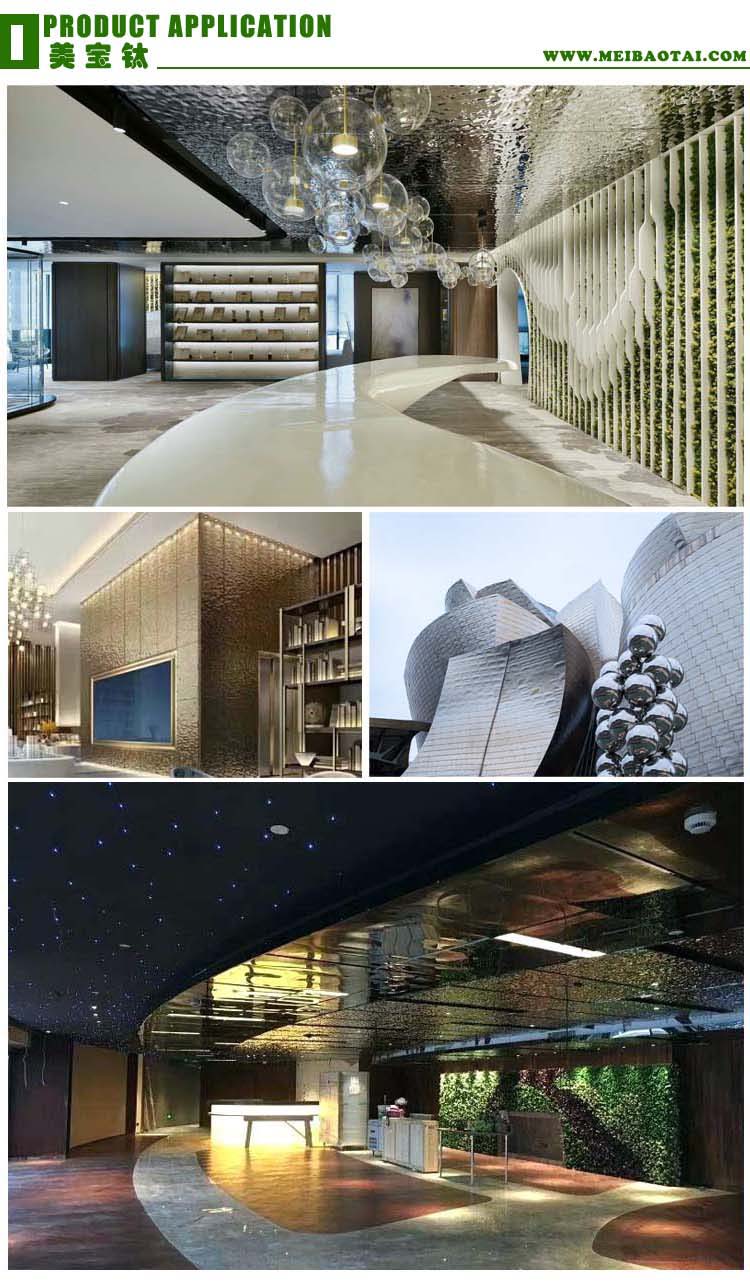 Application
As a fashionable artistic interior decoration sheet, metal corrugated sheet is made of metal stainless steel sheet through machine stamping and cold drawing. It is currently widely used in indoor and outdoor decoration including high-end residences and various commercial spaces. When a large area of bright silver water ripple ceiling is used, the entire space can be made transparent, especially when the light reflects the changes in depth, it deepens the sense of spatial hierarchy
Product Features 
Embossing machine stamps the water ripple patterns on the stainless steel sheet, embossing rolls are usually treated with corrosive liquids. The depth of the bump on the plate varies with the pattern, about 20-30 microns. Color of the water ripple plate can also be customized. In the production process, the body and the coloring layer are integrated. This preserves the basic structure and properties of the original stainless steel.
As usual, the thickness of the water ripple decorative plates is 0.6mm, 0.8mm, 1.0mm and 1.2mm. And most widely used colors are silver and gold. Thickness, length, width, colors and patterns can be customized.
Classification
The surface of the ordinary metal corrugated sheet is flat, and the refracted image is also uniform and uniform. But if the metal plate is beaten with a hammer, the surface will become uneven, and the refracted picture can present a visual three-dimensional effect. Through different percussion methods, the metal water ripple sheet can be divided into three categories: large water ripples, small water ripples, and water scale patterns. Water ripple surface treatment methods include bright, brushed, gold, rose gold, black titanium, champagne gold, and sapphire blue.
---
Previous:
ss304 Gold / Black / Blue / Silver / Rose Gold Mirror Stainless Steel Tile Trim U Shape Decorative Inlay Profile For Living Room
Next:
---
Q: Are you a manufacturer or merely a trader? 
A: We are both a manufacturer & trading company, we have a sales department and several production factories.
Q:  What Is Your Main Product?
A: Our main products include 201/304 series stainless steel sheets with 2B/BA/HL/8K/Colored/Etched/embossed or customized finish.
Q: How Long Is the Delivery Time? 
A: Usually between 15-30 days, but it can also depends on the specific requirements or quantity required. Please contact us to get the specific time required for your order.
Q:Can You Guarantee for Your Product/Finish?
A:If our sheets are properly applicated, you will not expected to have any problem in 10 years, however this time can be affected by many aspects(such as how you use it, indoor or outdoor? How is the weather in your area, cold or hot, dry or damp? Your fitting skill can also affect it).
You are always welcomed to contact us for application and maintaining advises.